Before chanting 'Geneva Convention violations', India should look in its own backyard
Last week saw tensions between India and Pakistan escalate further, as India launched an attack on Balakot and Pakistan responded the next day by downing two Indian jets and capturing an Indian Air Force (IAF) pilot. Soon after, a video circulated on social media in which the captured pilot, Abhinandan Varthaman, can be seen blindfolded, his face bloodied as he shares his name, rank and service details on camera.
The video was later taken down, but the Indian forces, in a joint conference, began to allege that Pakistan had violated the norms of the Geneva Convention. The same Indian media personalities who were earlier calling their 'surgical strike' in Balakot a "muu tod jawab" (jaw-breaking response) and describing their own human rights violation reports as airy-fairy, had now started invoking the Geneva Convention and registered a strong objection over the treatment meted out to Abhinandan.
This came as a surprise to every Kashmiri who has seen Indian forces engage in human rights violations and breaking international law on a regular basis in Indian-occupied Kashmir (IoK). Seeing the Indian side lecture their counterparts on following the framework of the Geneva Convention and the norms of humanitarian law perplexed the people of Kashmir, who have been rendered voiceless for years.
It is noteworthy to mention that there has not been a single trial in the last 28 years regarding the Indian armed force personnel's involvement in violent acts such as the Armed Forces Special Powers Act (AFSPA), the Public Safety Act (PSA), as well as those involved in the raping, torturing, killing and the enforced disappearances in the valley. Even if we put aside the Geneva Convention, what prides India to call itself the biggest democracy?
Last year, when the Human Rights Council issued a report on the gross violation of human rights in IoK and called for setting up a commission to investigate all allegations of violations and abuses, the Indian authorities termed the report fallacious and called it "overtly prejudiced". But if India is not violating any human rights or the Geneva Convention, why does it consistently refuse to allow a commission?View image on Twitter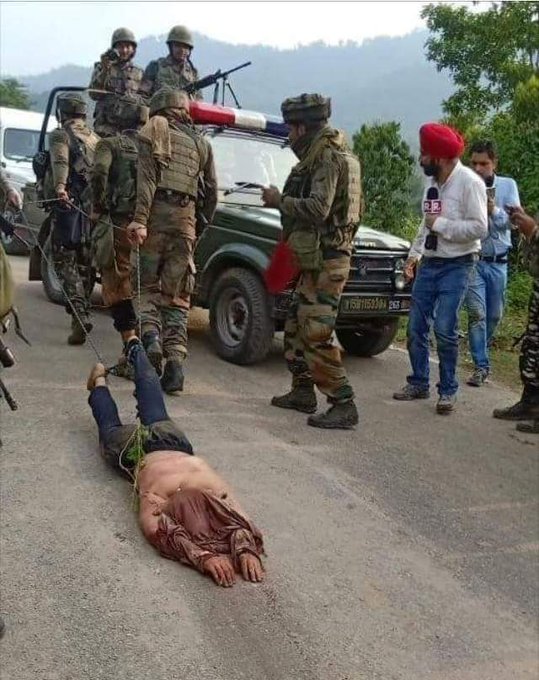 The curious case of the Geneva Conventions
There is no doubt that India has engaged in every kind of war crime and has an evident history of breaking the Geneva Conventions and violating human rights in IoK. Take an example of how it deals with protestors. Instead of establishing efficient crowd control measures, they use short-range pellet guns that blind thousands of civilians, including children. The use of pellet guns has been condemned across the world, but India continues to use them.
Another example would be of its cordon and search operations (CASO). Most of these operations, along with the encounters that follow, take place in residential and rural neighbourhoods, densely populated villages and hamlets, as well as urban residential spaces in particular cases.
Moreover, after every such encounter, it has been witnessed that Indian forces resort to violence, blowing up houses where any suspects may have taken shelter along with properties adjacent to it, using pellet guns and sometimes firing directly at civilians who come close to encounter sites. They are also responsible for collateral damage in areas like Kulgam (Khudwani), Shopian and Pulwama, where insurgency is at its strongest. If India itself strictly follows the rules of the Geneva Convention, why does it consistency fail to stop persecution against the Kashmiris?
Similarly, Indian forces were disturbed to see Pakistan allegedly use AMRAAM missiles against them. What they conveniently neglected is that the Indian armed forces are responsible for the use of heavy artillery in IoK to suppress a much poorly equipped insurgency. What is worse is that if the fighters offer tough resistance to the Indian forces, they char their bodies beyond recognition. Ever since the highly popular leader Burhan Waniwas located and killed, the Indian army has adopted a policy of mutilating bodies.
Wani's is not a case in isolation. In December 2016, Majid Zargar and Rahil Amin Dar were killed by Indian forces, their bodies charred beyond recognition, leaving only lumps of flesh to be buried. In a similar fashion, on June 23, 2017, three teenagers were killed in a brief gunfight with the forces in the Pulwama District, and according to the locals who buried them, their bodies were unrecognisable. Junaid Mattoo, Altaf Dar, Saqib Bilal Sheikh, the list goes on. Their families accuse the Indian forces of inhumane treatment towards dead bodies. Does this not violate the Geneva Convention? After all, Rule 113 of the Geneva Conventions regarding treatment of the dead clearly states,
"Each party to the conflict must take all possible measures to prevent the dead from being despoiled. Mutilation of dead bodies is prohibited."
However, over the last two years, this has become a common sight at funerals. Photographs of post-encounter sites frequently emerge, showing flesh turned to pulp and bone splinters being carried away in plastic bags to places of burial.
Ironically, despite the explicit terms of the Geneva Conventions, the Indian Army has systematically used tactics like rape as a tool of war to spread fear among women, as well as marking and defiling dead bodies beyond recognition, using civilians as human shields, and killing those who interrupt them in their hounding of rebels. This helps them reduce their level of frustration and spread fear amongst locals. In fact, they often endorse the fact that they burn houses and use improvised explosive devices (IEDs) to bring them down and prevent their soldiers from coming to any harm.
There have been cases where Indian armed forces and leaders were seen taking selfies with bodies of people they killed. Meanwhile, the human rights violations by these forces have always been and continue to be overlooked. Rather than punishing the culprits who go against the Geneva Conventions and basic humanitarian law, India rewards them, either monetarily or via a promotion to a new rank. There is a long list of such incidents that have been documented by various human rights organisations. However in India, we see people like Major Leetul Gogoi, who tied a man to the bonnet of a jeep and used him as a human shield, receiving awards by the Indian Army for his cruelty.
Thus, it seems India believes in questioning others when it comes to the Geneva Conventions being violated, but forgets what it is doing in its own backyard. Whether Pakistan has or has not violated any norms of the Geneva Conventions is no longer an issue, for the pilot has long been returned safely. But for the last few decades, there has been a growing record of human rights violations in IoK, and perhaps now is the time for India to realise that those who live in glass houses should not throw stones.
Comments
comments